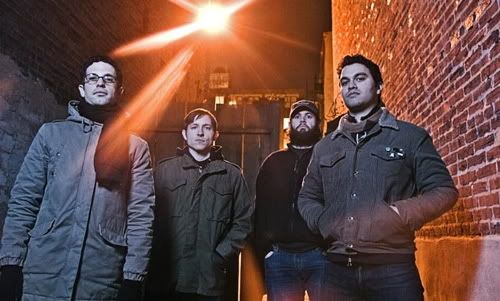 I'd be happy to credit this photographer if I knew who. sorry, someone fill me in.
"It is with a dream and a heart that we proceed; not a thought to leave behind not another lifetime we need"- Consonants
All the fans know already, that
HOT CROSS
is indefinetly inactive. They thank their fans for 7 years of support and say that they need to spend time on the rest of their lives outside of the band. 7 years is a long time. longer than Joy Division was around. Hot Cross have left a good amount of recordings behind them. all of them on the relatively non-mainstream, Level-Plane, besides the latest. The run-on sentences of Billy's lyrics provoke thought. The music creates an overwhelming mood which is pleasurable to us. They also challenged themselves musically and didn't get stuck. That should command the utmost respect for an artist(s)
"and so we're aimless caught behind and left without, it's worse than morbid and less than funny the way it turned out" - Between Minutes and Miles
Thank you Josh, Billy, Greg, Matt, and Casey
best wishes:)
LEVEL-PLANE.COM/HOTCROSS
MYSPACE.COM/HOTCROSS
Their Level-Plane releases can be found at 29north records
HERE
The best shirts they have are available from Shirt Killer
HERE
order their latest, Risk Revival from
MERCH NOW
or Equal Vision.
I only got to see them twice, damnit. and they were right under my nose:(
:)-r KG!