Boston June 27th
left to right: Fuzz, Tina Weymouth
I am the DJ for
TOM TOM CLUB
and we were happy to get to play some really posh shows with Devo, Gang of Four, and
DAN DEACON
. we played in Fairfield,CT then London (for 3000 seats), Brooklyn, and boston. london's meltdown fest was put together by Massive Attack where we played with Gang of Four. the Massive Attack guys were really cool. Brooklyn was june 26th and boston was the 27th with Devo. Tom Tom's were deep in the groove pocket thanks to Chris Frantz, the funk metronome.
in williamsburg, Dan Deacon's energy with the audience at McCarren Pool was more than impressive. the kids were ready to have a serious good time, just like for some of my favorite bands. even with such a big space he got the crowd moving. he was cool. traded Kraftjerk-01 "12 for his Crystal Cat "7 and some other stuff.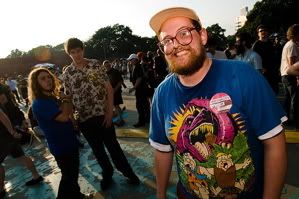 Dan at Mccarren pool
I met this guy named Benny from Baltimore who told me about his 8-bit project,
ADVENTURE
he mentioned he was about to play cake shop in manhattan. I think his stuff sounds rich with cool panning, good composition, and some sweet rutger hauer blade runner samples on "poison diamonds." His US tour starts in late august and his record will be out too:)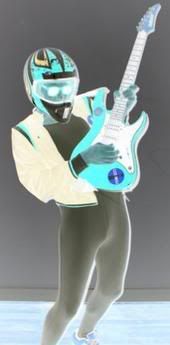 a great website from this baltimore artist collective
WHAM CITY
that's all for now,
thanks,
:)-r KG!