get it in your hands:)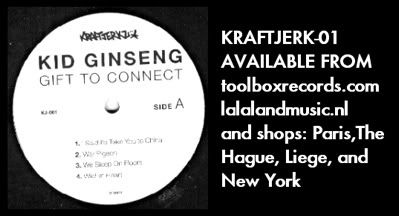 TOOLBOX E-STORE
you can stream audio samples or hit up my myspace
WHOLESALE BY TOOLBOX, PARIS (visit them if you are there)
if you live in new york city:
KIM's Video and Music
6 St. Mark's Pl.
NYC
ph: 212-598-9985
mondokims.com
ETHEREA
66 Ave A
NYC 10009
212-358-1126
etherea.net
VINYL MARKET
241 E 10th St.
NYC
10003
212-539-1203
look for it soon at :
and la la land (shop) The Hague, Netherlands
timeless-network (shop) Liege, Belgium
OH, final note: Go See
RUINER
the next time they come to New York. They are soo melodic. nothing brutal. I went to see them with Paul (SIGNS OF HOPE) in a restaurant basement in Brooklyn. that was Dec. 2nd. some of the other bands I liked were TRASH TALK on malfunction records. and ENVISION. those young kids are on my top friends. I would post some of ruiner's pix but dance music heads might not care so much about the hXc. ha:) I still love it
best wishes and happy new-year to ALL!
:)-robin KG!