Entro Senestre "Ride The Faderz" by Kraftjerkz
purchase 12" vinyl here:
DOWNTOWN304
there is a streaming audio player there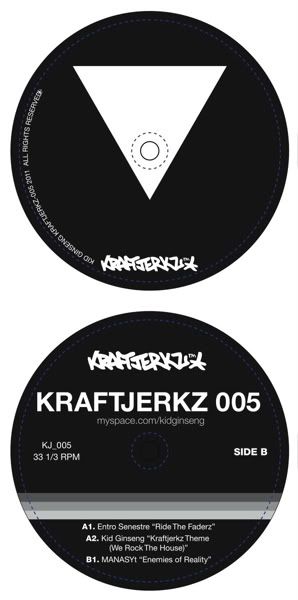 label design by Tiffany Pilgrim
The fifth release from Kraftjerkz is the deepest by far...an ass-shaking cross between Kraftwerk and a John Carpenter soundtrack featuring drum rhythms ala Computer World. This 12" features a roster of artists such as MANASYt, who's austere sounds have been featured on labels like The Hague's Bunker, and Entro Senestre of W.T. Records. Senestre's track is even influenced by New Orleans producer, Mannie Fresh as well as New York's latin Freestyle. Tom Tom Club's Kid Ginseng made his vinyl debut in 2007 with his "Gift to Connect" ep which was circulated mostly around France and the UK. All three of these artists have been played by the Dutch west-coast's Intergalactic FM. Kraftjerkz-005 will planet-rock any size room it's played in.
retailers visit downtown161.com