In case you haven't been following the DIY electro scene in The Hague, Gothenburg, Helsinki, UK etc. I got the pleasure of interviewing one of the most notorious of the electro scene known since the 90's. I could go on and on but let's talk to Luke Eargoggle from Sweden, who has released records on
STILLEBEN
,
BUNKER
and many other high quality core labels he has allied with.
myspace.com/lukeeargoggle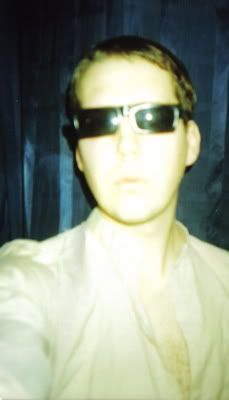 hello lukas,
I have been aware of you for a few years and think you have some of the deepest hardware tracks in the world:)
* What can i say. THANK YOU very much! (:
I know you had a hiphop background with graffiti. in my late teenage years I was collecting alot of electrofunk. did you collect old electro vinyl too?
* Thats correct. I started with writing and doing some electro boogie until i decided to dedicate my time totally to bomb the trains in the city of Gothenburg/Sweden where i live. It was really really great back then. My friends were djing alot then aswell so they bought all the old school classics which acctually was brand new at that time ofcourse in the mid 80´s. Back then i didnt collect i just loved it. The collecting started for me arround 95 i guess,
I notice you love the kraftwerk "numbers" drum rhythm. is this a special rhythm for you?
* Yes it is! For me its the utlimate beat ever. Cant help it makes me go crazy everytime i hear it. The song looking for the perfect beat is about that beat. Atleast for me. This weekend i was visiting some friends in stockholm and i found numbers 12" in his collection so i put it on (ofcourse to loud) and they just smiled at me like... " -Here we go again.... " (:
do you have any favorite synths for your many basslines? how quickly can you finish a good track? is this secret information?
* Well its no secret but its more fun if people find their own sounds/synths rather then me mention what i use. It depends, but i guess my personality and soul love certain sounds so naturally i look for same "worlds" all the time in sound/synth. Making a track usually takes few hours to one day. I think flow is a keyword for me and also a track is just a track. So for me its not nessecary to try to get all ingredients into one song. Enough is enough. Then i make a new song or concept with ideas. Perhaps i dont like it to much today but in 3 years it might be my best track ever.. Who knows (:
tell the people in the US about your label,
STILLEBEN
, and who are your favorite producers?
* My label been arround since 98 and focused on electro musik and some electro disco. For me it was very natural to start an own label instead of starting sending demos and let other people decide if its good or not. I / We liked what we did so it must be ok, worst thing that can happend is that you loose some money but that is not loosing because aslong you try and do something you belive you win. Money is just money. Its a nice tool but feelings are stronger! So just do it instead of wait for others improval... They dont get it anyways (:
My favorite producers are to many to name but i really like many oldschool producers. Man Parrish, Gerald Donald, Juan Atkins, Kraftwerk etc i could make the list long but it would just be boring reading. These days you hear nice stuff every now and then but most lack personality and interest for me in todays musik. Lately i founded really many nice Italo producers that made most beautyfull music so that makes me really really happy!
I notice you are having many
ELECTRO DATABAHN
parties up there in sweden. tell us about them. when did you start doing them? I have seen some footage on youtube
* Yes there been some stuff going on here and still is. Soon comes autumn and its electro time again! I love this music and people here do aswell so its nice atmosphere to make some things for me, us, and the people! If i dont do them who will make them... ?! I say like the Lonny & Melvin title of a record... " If you want a job done. Do it yourself "
ok, the CBS is finished, which made me sad for 2 days. have you talked to I-F? where do you see the future of actual hardware -made electro?
* Yes thats kind of sad but in some ways very natural perhaps. Ferenc had this station for som many years and really made most of us spoiled i guess. People think of CBS like a really big thing but its just some really beautyfull loving souls tryig to live their own life with quality. Now when it stopped maybe others should start their own stuff instead of get to sad or depressed. CBS will always be the best Music channel ever i guess. Too good, too much quality...
I think hardware is the best! But with software combination it perfekt, Most important is to have concept or ideas. Then your musik will get strong... People can buy all the machines in the world but without vision/drive it will not be so interesting... Hmm I think (:
what is your advice to musicians who make "do-it-yourself" underground labels?
* Just belive and do it. Simple as that. Have fun and you will get more fun!... Remeber..." ITS MORE FUN TO COMPUTE"
which of your new records are available to buy and where can people order them from? btw stilleben 031 sounds bangin'!
* Well there are pretty much in the making. Last year i worked much with a new little group called " Faceless Mind " Its together with my close friend Johan Inkinen who also run the Electro label KUST from Gothenburg aswell. New Eargogggle album is almost ready and is being released on Miami Based Transient Force later this year. Will be it different but same.
Yes the stilleben031 is really banging record with only producers from 031 area ( Number of our region ) There are some really good and pretty many producers concentrating on electro here. You can get it from smaller shops since stilleben have no exclusive distribution anymore... just search on internet or discogs and you will find stilleben records.
ok, changing the subject: Im sure you are a fan of US west-coast electro. my favorite track is "breakdown" by Unknown DJ. which is your favorite?
* Ohh another hard uqestion! But for me its the Egyptian Lover productions that influenced the most. " My House On The Nile " One of my best west coast tracks ever.
wow! I almost forgot to ask how you met egytpian lover and how you made a 12" with him. how did the two of you meet?
* Well we met in Stockholm at a gig after having some mail contact. Spoke some and later on we came up
with this idea of making something together and it bacame the Projekt " Egypt Ear Werk" Werk of art 12"
KUST002
. Future is here... data data data...
any last words?
Yes... Its a new day and soon coffee is ready... Can it get any better !?
Electro regards
Luke Eargoggle
thank you very very much! that's all of my questions.
:)-robin KG!

"Planet Rock" graf by Eargoggle himself!