12" vinyl for sale:
CLONE RECORDS
search "Kraftjerkz"
audio preview clips are there.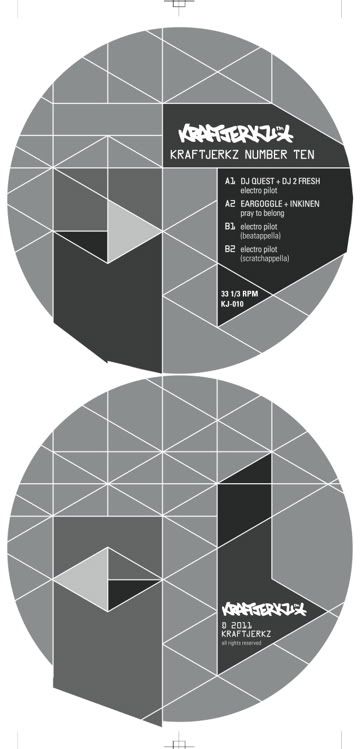 Various Artists
Kraftjerkz Number Ten
DJ Quest & DJ 2 Fresh / Luke Eargoggle & Johan Inkinen
Electro Pilot/ Pray To Belong
KJ010
Features DJ Quest and DJ 2 Fresh of San Francisco's Mission Cartel with fast scratching and edits, electrofunk megamix style.  Plus purist electro from Sweden by Luke Eargoggle and Johan Inkinen of Stilleben and Kust labels. The record also features dub versions on side B to create your own remix using two copies.
DJ Quest of Bullet Proof Scratch Hamsters/Space Travelers set multiple standards for what would become the 90's turntablist movement including pressing the first battle record tool with DJ Eddie Def and DJ Cue in '93.
label design: Leslie Burnett