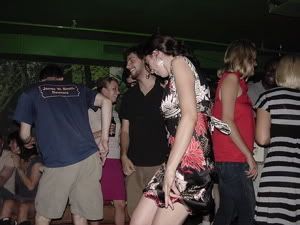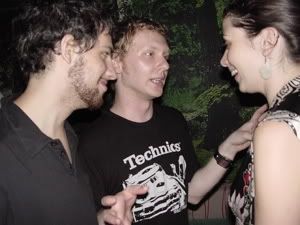 middle: Mike Dextro
Here I am with
LIGHTING BOLT's
second CD in the background. It's distracting me from this review so I just turned it off. I went to Pianos on the lower east side of Manhattan and the music in the upper lounge embraced me. It was "Pornography" night, last wednesday, june 27th.
OLE
was spinning mash-ups and
MIKE DEXTRO
joined him for some 909 rave stuff. It was good laptop DJing. No "tan-man-with-spikey-hair" shit at all really:) Mike dropped a familiar Bucketheads (Kenny Dope Gonzales) house track, and also the
JUSTICE
remix of Daft Punk's "human after all." Mike makes his own tracks that you can listen to
HERE
. Next up after Mike was
DJ DUCKCOMB
spinning only vinyl. He spun some minimal disco that I hadn't heard before plus some mainstream disco classics. Everyone listen to
BANGKOK IMPACT
on Holland's
BUNKER RECORDS
. His sound quality is deep. Mike Dextro has his own parties
(MAGAZINE MAGAZINE, HEROINE CHIC)
and DJ Duckcomb has his
SHAREGROOVE
events with Shakewell.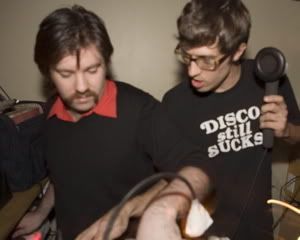 Shakewell (left) Duckcomb (right)
Thanks to mike for the party pix:)
Also,thanks to
XIAOTING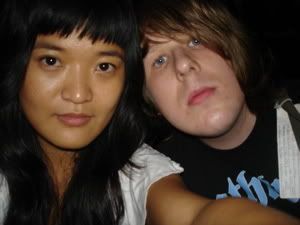 for helping me find my way around that night, as usual. She is a music journalist (among other things) from China covering a large variety of rock. She has written for China's Rolling Stone and works for Annex, at the moment. She is constantly branching out in the indie music scene. she lives in new york and is illmad-rad, in general:)
:)-r KG!